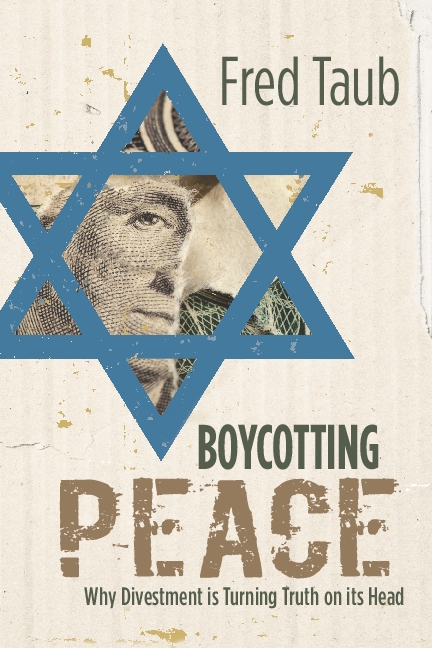 (Click to enlarge)
Shipping Now
Speaking Schedule:
Thursday, April 28, 2011:
Cleveland State University - Hillel
Sunday, April 10, 2011:
Israel National Radio
Saturday, April 9, 2011:
Israel National RadioOp-Ed: Israel National News
Sunday, April 3, 2011:
Cedar Road Synagogue
Monday, January 17, 2011:
Scholars for Peace in the Middle East
Contact Fred Taub via
Boycott Watch
Help us build our video studio
What people are saying about Boycotting Peace:
"Boycotting Peace by Fred Taub provides eloquent proof that those advocating boycotting Israel and the divestment from the Israeli economy are not only not interested in arriving at peace between Israel and its Arab neighbors, but have only one interest, and that is the destruction of the State of Israel. They are enemies of peace in the Middle East. From this kind of hate campaign against Israel it is only a small step to blatant anti-Semitism, a step that most of these Israel-bashers take without hesitation.
This is a very important and timely book."
- Moshe Arens, Ambassador, former Israel Defense Minister, Professor
"Fred Taub conclusively proves the Arab boycott of Israel / Boycott, Divestment & Sanctions campaign is a total fraud. A must-read book - Bravo!"
- Debbie Schlussel, Attorney & Media Commentator
Fred Taub speaks about his book:

The Arab boycott of Israel is the single biggest impediment to peace in the Middle East because you cannot have peace with someone who will not sit down with you for a cup of coffee.

The Arab boycott became official policy with the creation of the Arab League in 1921, twenty-seven years before Israel was established, to starve out the Jews before Israel could be created. That's the same Arab League which declaring war on Israel and meets regularly to reaffirm their boycott. It does not end there. While Syria re-patents copies of Israeli products for the Arab world and the PA/PLO expanded their boycott to Malaysia while claiming to negotiate for peace with Israel in good faith, a consultant to the PA/PLO secretly created and drove the Goldstone Commission.

On campuses, DBS is being pushed to create a new generation which believes boycotting Israel is moral and just. De-legitimization, unfortunately, is not the final goal, it is dismantlement. The Arab plan is to have average Americans to do their bidding to bankrupt Israel so they can then say Israel is a failed state which needs to be dismantled rather than bailed out. My book, Boycotting Peace, proves it.

Fred Taub asks: Are you Boycotting Peace?

Fred Taub has been at the forefront of fighting the Divest-from-Israel campaign since its inception. An expert in consumer boycotts who regularly appears in the media and whose work
has been cited in two cases before the United States Supreme Court, Fred is hated by the Arabs for exposing the illegal nature of the Arab boycott and why the divestment campaign is anti-peace. Fred has been to several divestment conferences undercover, and in this book he exposes the direct connection of the Boycott, Divestment and Sanctions campaign to Yassir Arafat, the Palestine Liberation Organization / Palestinian Authority, Mahmoud Abbas, Palestinian rejection of a two-state solution, and even the United Nations Fact Finding Mission on the Gaza Conflict, also known as the Goldstone Commission.

In this text, Fred Taub proves the divestment campaign is nothing more than an extension of Arab boycott of Israel which is designed to destroy peace, not enhance it, and how people are being recruited under the false pretense of fostering peace when they are actually thwarting it. As Fred Taub likes to say; "You can't have peace with someone who will not sit down with you for a cup of coffee, so you can't divide people into peace. Boycott, therefore, is the antithesis of peacemaking."